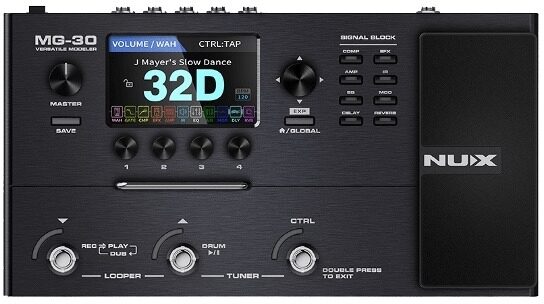 NUX
NUX MG-30 Multi-Effects and Amp Modeler
Since NUX announced MG-300, people started noticing the TSAC-HD (White-Box) Modeling Algorithm. It offers you realistic amp response and playability. And now, the MG-30 provides you better definition from HD to 2K!
With 2 powerful NXP RT processors, MG-30 drives 1024 samples Impulse Response resolution with ultra-low system latency to give you tight and fast response.
2 premium AD/DA AKM AK4558EN 32-bit 2 channel audio CODECs realizes "high quality sound performance." MG-30 has super wide dynamic range - 110dB !
4" Large Colorful LCD
Intuitive user interface with a large colorful LCD lets you get rid of reading manuals.
The 5-way encoder navigates lets you for quick editing, signal block routing, jack setting, and more. Signal block indicator presents current status, and helps you quickly engage/bypass or edit related effects.
Holding the HOME/GLOBAL BUTTON enters the Global Setting. Here you'll find lots of great application designs.
25 electric guitar amp models, 3 bass amp models, and 2 acoustic amp models. Working musicians don't need hundreds of mediocre amp models.
Knowing this, NUX focused on 30 classic essentials, and made each and every one lives up to the standards of the most demanding players. Included in its top-shelf collection are: 25 electric guitar amp models, 2 acoustic amp models, 3 bass amp models.
---
Share this Product
---
More from this collection