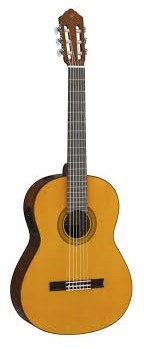 Yamaha
Yamaha CGX102 Acoustic Electric Classical Guitar
A Great Classical for Live Playing
The CGX102 acoustic-electric nylon-string classical guitar is an expansion of the already popular CG classical guitar series. Yamaha has combined quality tonewoods with an onboard preamp that offers versatile tone control and professional amplification. You'll get a natural, resonant tone from the spruce top, and the rosewood fingerboard and bridge provide you with accurate and smooth response. And, with the new System 68N preamp and precision tuner, the CGX102 will keep you in tune and sounding great if you're playing live. Become a student of the classical guitar with the Yamaha CGX102.
Yamaha CGX102 Acoustic-electric Classical Guitar at a Glance:
Great sounding spruce top
System 68N preamp offers versatile tone control
Great for learning classical guitar
Great sounding spruce top
Sweetwater knows that the choice of top wood can make or break the sound of a nylon-string guitar. For the CGX102, Yamaha chose a spruce top. Chosen as much for its look as its tone, spruce has a rich sound with excellent projection. And because it's a spruce top, the tone of your Yamaha CGX102 will age gracefully with enhanced harmonics and greater tonal balance as the years go by.
System 68N preamp offers versatile tone control
A natural tonal reproduction in a classical guitar preamp is important, and the System 68N preamp delivers. The Yamaha contact pickup and precision tuner keep you sounding your best. With such tonal clarity and advanced amplification, the Yamaha CGX102 is an ideal classical guitar for live performance.
Great for learning classical guitar
The wide nut of the classical guitar is essential for proper classical technique. The Yamaha CGX102 offers a wider nut not generally found on classical guitars in this price range. The wider string spacing found on the CGX102 is ideal for learning rest stroke, free stroke, or rasgueados. If you're considering entering the world of classical guitar, the Yamaha CGX102 is an ideal instrument to start with.
Yamaha CGX102 Acoustic-electric Classical Guitar Features:
Spruce top
Nato back and sides
Rosewood fingerboard and bridge
System 68N preamp with precision tuner
---
Share this Product
---
More from this collection